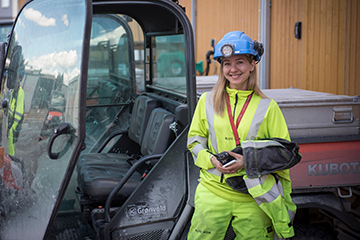 Agnethe Hoff Finnøy works for the Norwegian railway company Bane NOR as a geologist on the Follo Line Project.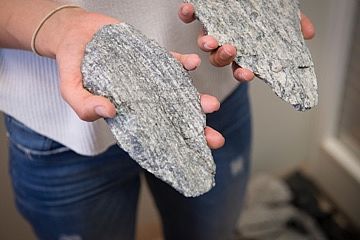 With a compressive strength of up to 300MPa, the gneiss in Oslo is one of the hardest rocks ever successfully excavated with mechanized tunnelling technology. The demands on the disc cutters are correspondingly challenging.
Agnethe Hoff Finnøy's site office is bare, the only wall decoration a photo. In it she stands smiling between the cutterhead of a tunnel boring machine (TBM) and the rock of Oslo. Every day the thirty-year-old geologist for Norwegian railway company Bane NOR drives into the mountain to check and document the status of the advance. "My friends ask me with amazement how such a TBM operates. When I tell them the machine presses against the rock, rotates and the rock breaks, they can hardly imagine that it actually works," says the geologist and laughs. Then she passes the visitor an almond-shaped, palm-sized chunk of stone: "Gneiss, a particularly hard rock." The chunk is heavy in the hand. "The TBMs crack the hard rock into chips like this," says Hoff Finnøy and smiles: "It works wonderfully!"
This finding is relatively new in Norway. Hoff Finnøy works on the Follo Line, the largest infrastructure project in the tunnel-rich land of the fjords. "Probably no state has more tunnels than Norway. For every inhabitant, statistically there are 1.3 meters," says Anne Kathrine Kalager, Bane NOR's project manager for the main tunnelling section on the Follo Line Project. Previously, tunnels in Scandinavia have mostly been built with the traditional drill & blast method. Only in a few hydropower projects smaller tunnel boring machines were used. The best way to deal with the indigenous rock is by means of explosives, because tunnel boring machines would have a tough time with it – for a long time that was the prevailing opinion. The Follo Line Project brings movement into this tradition. Using mechanized tunnelling technology, the unique large-scale project is creating the longest railway tunnel in Norway and eliminating a bottleneck in the transport network of the future. The new twin tube will run 20 kilometers from the municipality of Ski to the south of Oslo right into the center of the metropolis – with an open section at both ends, 22 kilometers in total. Four million cubic meters of rock have to make way – almost double the volume of the Cheops pyramid. In future commuters will save eleven minutes on the short route, half of the current travel time.